Granada – Well worth a visit to the Alhambra Palace. A stroll around the Moroccan Market for souvenirs, relaxing in one of the street Cafes watching Spanish life pass you by.
Alcalá La Real – A delightful small town situated on the N432 between Cordoba and Granada.The Castle (Forteleza La Mota) in Alcala la Real dates back to 732 when the town was under Muslim rule. The Castle is open to the public. (Please check opening times)
Córdoba – A day exploring this Moorish City is a must. The Mosque Cathedral is the only Mosque kept in Spain and is one of the biggest in the World. Full of white houses with green shutters the narrow winding streets of Cordoba makes for a very inviting stroll, seeing the spectacular displays of Cordoba Flowers is a sight to not to be missed.
Jaén – The least populated City in South Central Spain. It is a lovely province that has an ancient and fascinating history. The Castle towers over its winding streets.
Sierra Nevada – (Meaning "snowy range" in Spanish) Is a mountain range in the region of Andalucia. It is the second highest mountain range after the Alps. This is Europe's southern-most ski resort. Granada sits at its foothills. Skiing is one of the most popular things to do at the Sierra Nevada and it is possible to go skiing in the morning and swimming in the Mediterranean in the afternoon!
Priego de Córdoba – Is a lovely little Olive Farming Town producing superb olive oil. The old Town is built around an Arabic Castle. There is a labyrinthine of narrow twisting streets that just invite you to stroll around.
Castillo de Locubín – A small traditional village, a good place to experience how the Spanish go about their daily lives, meeting for coffee in the local cafes and the elderly gentlemen chatting on park benches. It is a very pleasant place to lose yourself for a couple of hours.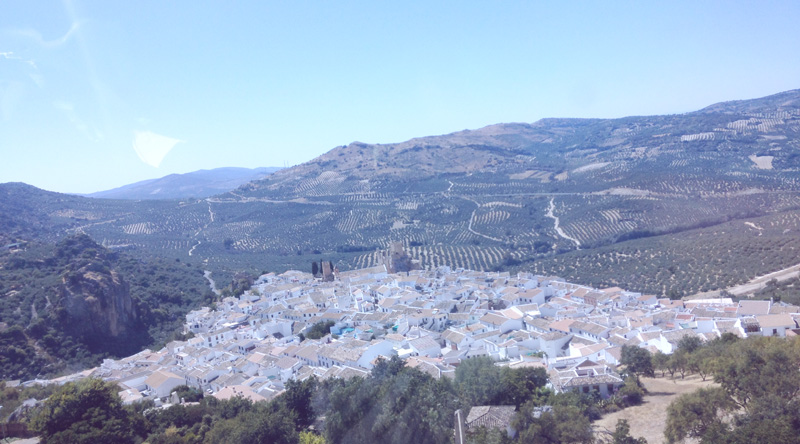 Zuheros – Is one of the most picturesque of 'White Villages' in Andalucia. It is situated in the Subbetica region in the south of the province of Cordoba. The village has many narrow streets and is right in the centre of the Parque Natural de la Sierra Subbetica and is reached by the road A-318.
Alcaudete – Home to a 12th-14th Moorish Castle located on top of the hill commanding the town. It is a typical Spanish town with plenty of Bars and Restaurants.
Seville – Largest City and the capital of Andalusia. It is famous for being a joyous town and is credited with the invention of Tapas. It has more than a thousand bars where the choice of food is virtually unlimited.